Vanishing River: Landscapes and Lives of the Lower Verde Valley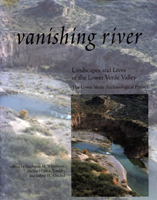 Edited by Stephanie M. Whittlesey, Richard Ciolek-Torrello, and Jeffrey H. Altschul
823 pp. / 8.50 x 11.00 / 1999
Hardcover (978-1-8794-4290-0)
Price : $85.00
Like the land through which it flows, northern Arizona's Verde River has been severely impacted by human activities over the last 1,500 years. This book and an accompanying compact disk tell the story of the river, the land, and the people who once lived there, providing a compelling reconstruction of the river, the land, and landscapes of Hohokam, Sinagua, Yavapai, Western Apache, and Euroamerican peoples. The reconstruction is based on more than 6 years of research conducted by the Lower Verde Archaeological Project, which melded the talents of archaeologists, ethnographers, soil scientists, and others in a multidisciplinary approach to human land use. Topics covered include chronology and site structure; prehistoric farming practices, migration, ceramic production, and exchange; and Western Apache and Yavapai material culture and ethnohistory. Historical accounts of the river and land along with paleoenvironmental reconstructions provide a perspective on environmental change, while contemporary methodological and theoretical approaches unify the research. Descriptive materials on excavation, artifact analysis, and specialized studies—which would fill more than three volumes—are presented on CD. The digital format allows for the use of over 300 photographs, most in full color, along with a short movie that introduces the project and provides an encapsulated view of the most important findings of the research.
The accompanying CD-ROM contains:
Introduction, by Jeffrey H. Altschul, Stephanie M. Whittlesey, and Richard Ciolek-Torrello. 12 text pp., 7 figures, 2 tables
Volume 1: Description of Habitation and Nonagricultural Sites, edited by Richard Ciolek-Torrello. 200 text pp., 143 figures, 111 plates, 20 tables
Volume 2: Agricultural, Subsistence, and Environmental Studies, edited by Jeffrey A. Homburg and Richard Ciolek-Torrello. 248 text pp., 125 figures, 117 plates, 70 tables
Volume 3: Material Culture and Physical Anthropology, edited by Stephanie M. Whittlesey and Barbara K. Montgomery. 200 text pp., 73 figures, 28 plates, 69 vessel illustrations, 217 tables.
Plus the bibliography, 17 appendixes, 3 supplemental reports, photographic catalog of artifacts associated with human remains, and QuickTime movie.
Explore the Table of Contents